SimplyPats and Manually entering PAT Testing Data
Both SimplyPats Version 7 and Simplypats Version 7 Manual Edition support the Manual Entry of PAT Testing Data using the dedicated Manual Entry Screen.

If you use a Manual PAT Tester (Non-downloading PAT Tester), or a PAT Tester without an internal memory, you will find that the SimplyPats Version 7 Manual Edition offers a cost effective solution for electronically managing your PAT Test Data.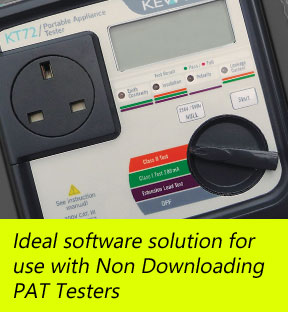 Enter as much or as little information as required.
Using the dedicated Manual Entry screen you can enter as much or as little information as you want, for example; you may want to set just the status as a Pass or Fail for each test carried out, or you may want to record the actual PAT Test Readings.
Different ways of managing your PAT Data

There are various ways of managing data, PAT Contractors may want to have separate Data Files for each customer, whereas those carrying out In-House PAT Testing would probably opt to use just one Master Data File.
Rapid entry of PAT Test Limits or "One Click" PASS

This is optional depending on the amount of detail that you want to record.

Pre-defined test Limits can be set using the "Maintain Manual Test Limits" feature, this in turn will allow you to Quickly set Test Limits using a Drop Down Menu on the Manual entry Screen. If you now enter the Test Results and press the Auto button, SimplyPats will automatically work out the Status (Pass or Fail) for each test.
Your PAT Tester may not have the ability to display the test limits (however they may be available in the manual), or you may not want to record or show them. In this case you can simply set the Status (Pass / Fail) for those tests carried out or use the Buttons "Set Status to PASS for "CLASS I, CLASS II or LEAD" This will set the recommended tests carried out for the chosen option to Pass.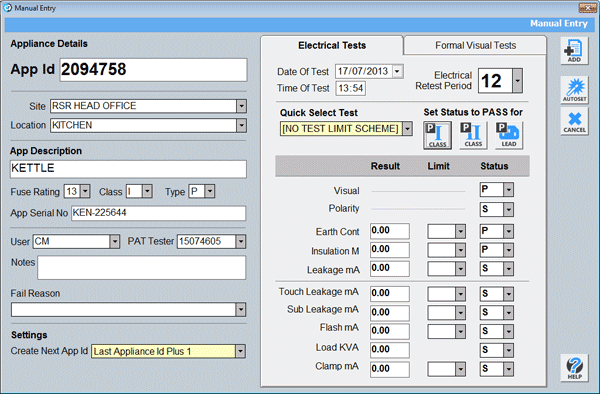 Using Manual Keywords to automatically pre-populate multiple data fields such as Fuse Rating, CLASS and Type of Equipment.

Using the "Maintain Manual Entry KeyWords" feature you can tell SimplyPats to automatically fill in certain information on the Manual Entry screen based on the Appliance you are entering.
The ability to use Manual Keywords are triggered when you enter an Appliance Description that matches a KeyWord. If setup, SimplyPats can automatically enter Fuse Rating, CLASS of equipment, Type of Equipment, Test Limits for Earth Continuity, Insulation, Leakage and status for Polarity.
The following Test Data can also be entered (Result, Limit and Status);
Visual (Detailed Visual checks can be recorded using the Formal Visual Tests TAB)
Polarity
Earth Continuity
Insulation
Leakage
Touch Leakage
Sub Leakage
Flash
Load
Clamp

As mentioned above, there are various options for automatically incrementing the Appliance Id, these include;
Last Appliance Id Plus 1
Number of Records Plus 1
Highest Appliance Id Plus 1
Highest AlphaNumeric Appliance Id Plus 1
Last AlphaNumeric Appliance Id Plus 1
Appliance Information such as Appliance Id, Description, Retest Period etc can be easily edited from the main screen. Actual Test Results can also be edited by returning to the Manual Entry screen for that Appliance.